Volunteering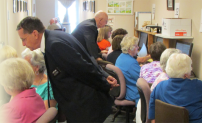 Would you enjoy the opportunity of serving as a volunteer at the Family History Training Center, helping others learn about and do family history?
Requirements for volunteers are as follows:
Be able to serve a minimum of 8 hours per week, which includes helping students during classes, attending monthly staff meetings, and attending monthly inservice meetings.


Attend one of the five-day classes to become familiar with the lessons and exercises used in our program. (Click here to see dates for upcoming five-day classes.)


Complete an application to be called as a Church Service Missionary.
You may also be interested in reading more about the mission and history of the FHTC.
To start the volunteer process, please contact the director by phone (801-374-2283) or for an interview.